August 2016
August Wellington Conference
This forum was an opportunity to hear Hon Simon Bridges, Minister of Transport and Peter Mersi, recently appointed Chief Executive of the Ministry of Transport, as well as Coroner Peter Ryan and cycling ambassador Sarah Ulmer in a very full and thought-provoking meeting.  The Minister summarised progress toward intelligent transport systems in New Zealand and outlined his vision for how new modes of transport will affect the way we use our road networks and resources in the future.
Forum Details
This forum was held at the Wellington International Airport Conference Centre.  As well as an opportunity to hear the Minister and the newly appointed Chief Executive of the Ministry, those attending heard presentations from Sarah Ulmer on the Te Awa Cycleway project, Kevin Reid on the story behind the Huntly Steel story, representatives of Waikato Regional Council and pupils of Te Awamutu's St Patick's Catholic School on the lessons from the Waikato Speed Management project, Acting Senior Sergeant Dan Harker on new vehicle-activated alerts of impending stop signs, Coroner Peter Ryan on the role of the Coroners Court, Andrew Scott on the work of the Safe Roads Alliance, and a Young Engineer's presentation from Earl Barretto on the Te Whau Pathway, as well as updates from Mark Yaxley, Stuart Woods and Rui Leitao.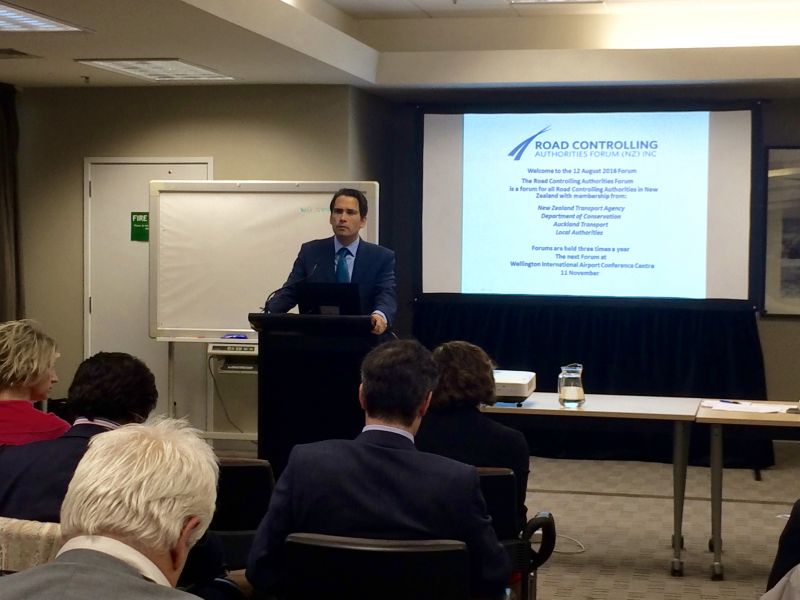 Hon. Simon Bridges addressing the Forum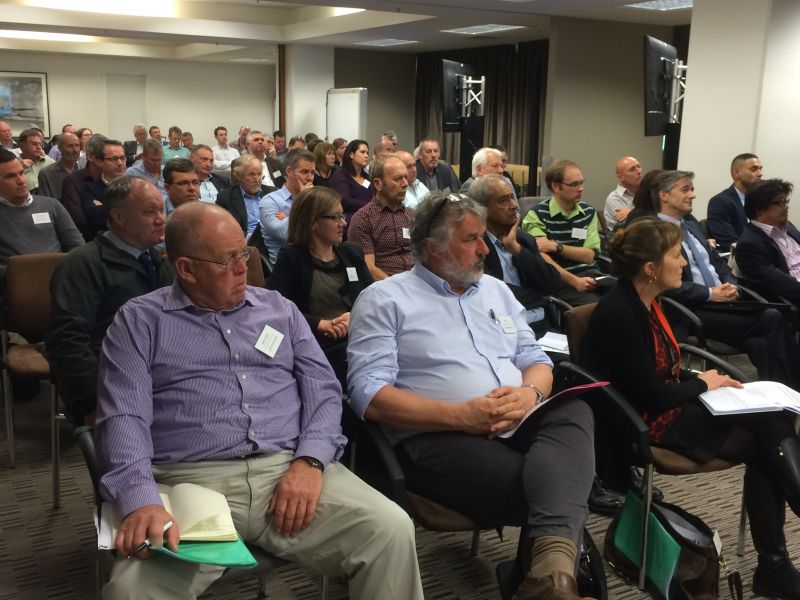 Agenda
1. Peter Mersi, Chief Executive, Ministry of Transport
Image 3 (missing on page)
Peter Mersi addressing the Forum
2. Earl Barretto – Young Engineer's Presentation – Te Whau Pathway
3. Andrew Scott – Safe Roads Alliance – Breaking the Barriers to Safer Journeys
4. Stuart Woods – NZ Transport Agency – Resilience tools go live
5. Peter Ryan – Coroner – A Coroner's report – what it can mean for an RCA
6. Kevin Reid – NZ Transport Agency – 'The real steel' – The Huntly steel story
7. Junine Stewart – Waikato Regional Council – Hobbiton and health impacts: learnings from the Waikato's demonstration of the Speed Management Guide
Image 4 (missing on page)
Junine Stewart addressing the Forum
9. Daniel Harker – Acting Senior Sergeant, NZ Police – Advanced warning signs
10. Rui Leitao – Road Efficiency Group – Providing the tools
11. Mark Yaxley – NZ Transport Agency – Landing the framework
12. Sarah Ulmer – Te Awa and Cycleways – a collaborative effort
13. Hon Simon Bridges, Minister of Transport – Intelligent Transport Systems
14. Graham Taylor – NZ Transport Agency – Key proposed changes to the VDAM Rule
Presentations
Where speakers presented a powerpoint, it has been loaded below.  Click on the item to download the presentation. Note that Item 14 was not taken on the day, because the meeting went over time.
Item 2 – Te Whau Pathway – Earl Barretto, Young Engineer's Presentation
Item 3 – Breaking the Barriers to Safer Journeys – Andrew Scott, The Safe Roads Alliance
Item 4 – Resilience tools go live – Stuart Woods, NZ Transport Agency
Item 6 – The Real Steel – Kevin Reid, NZ Transport Agency
Item 7 – Hobbiton and Health Impacts: Learnings from the Waikato demonstration of the Speed Management Guide – Junine Stewart Waikato Regional Council
Item 9 – Advanced Warning Signs – Dan Harker, Acting Senior Sergeant, NZ Police
Item 10 – Providing the tools – Rui Leitao, Road Efficiency Group
Item 11 – Landing the Framework – Mark Yaxley, NZ Transport Agency
Item 12 – Te Awa and Cycleways: a collaborative effort – Sarah Ulmer
Item 14 – Key proposed changes to the VDAM – Rule Graham Taylor, NZ Transport Agency