2021 – 2024 Strategic Plan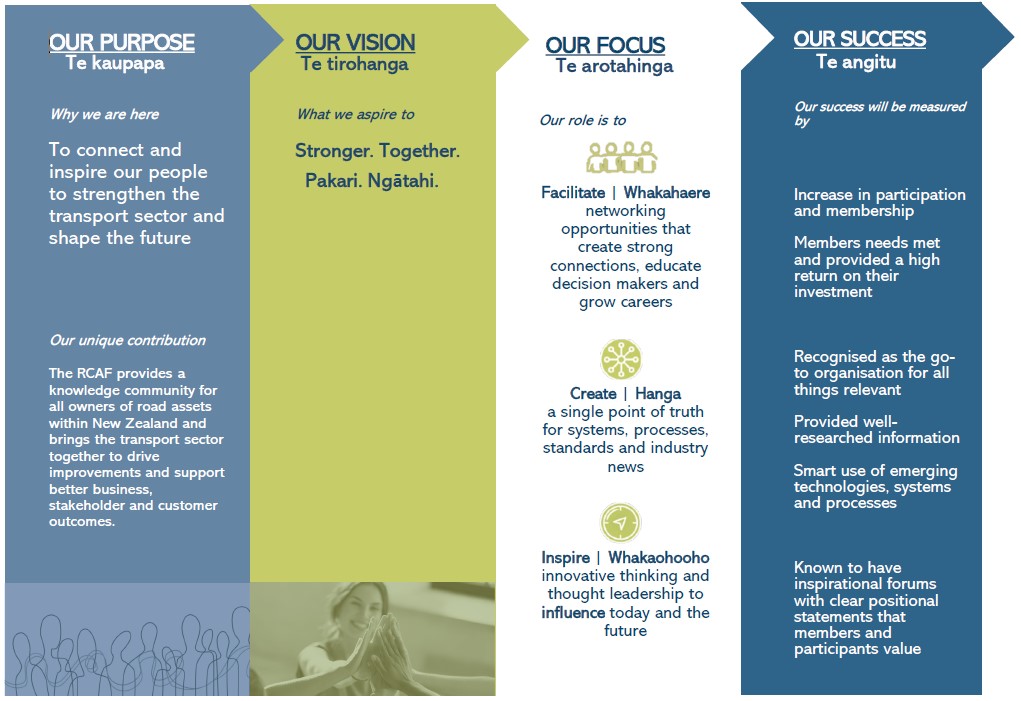 Our Focus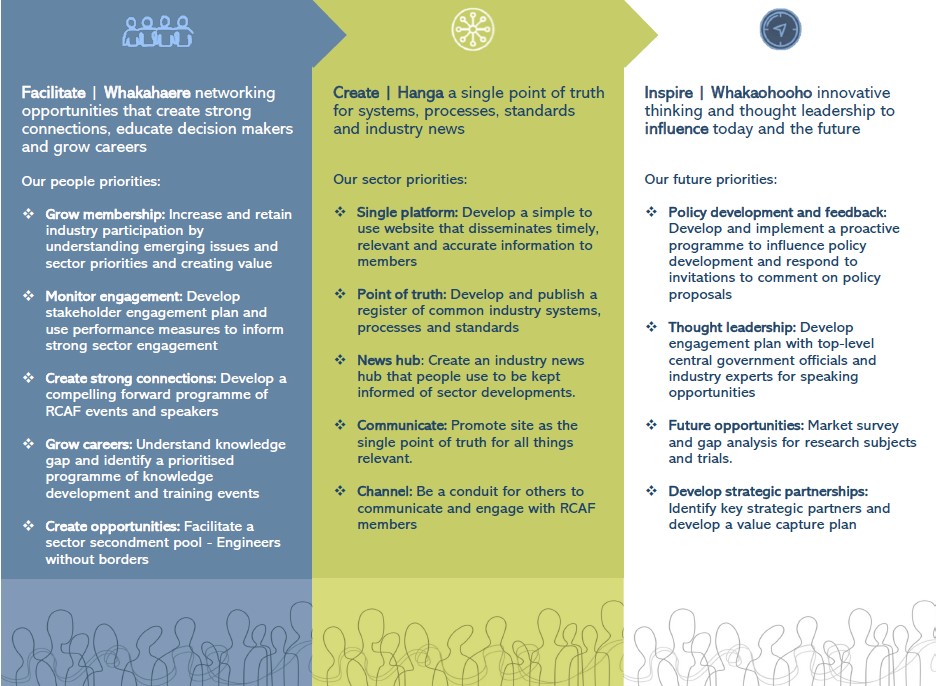 Context and opportunity
We aspire to become recognised as a leading provider of relevant guidance to help transport corridorstakeholders make high quality decisions for its customers.
About the RCA Forum
The RCA Forum is a closed, non-political incorporated society of road asset managers and roading professionals from all territorial local authorities (except the Chatham Islands Council), the Department of Conservation and the New Zealand Transport Agency.
The RCAF vision is to assist road-controlling authorities to make informed decisions. The purpose of the RCAF is to exchange information and provide updates on sector working group activities, proposed legislation, new standards and guidelines, highway and procurement strategies and other issues relevant to road controlling authorities and the other member organisations.
Background
The RCAF was established on 15 October 1996 by Transit New Zealand and a group of representatives from the territorial local authorities, the Department of Conservation, Land Transport New Zealand and Local Government New Zealand to address common issues.
In 2004 a working group was established to consider a broader role for RCAF, more consistent with the asset ownership responsibilities of its members, particularly around improved information to assist with asset investment and asset management decisions. A strategic plan (2004 – 2007) was developed and
implemented, and in 2006 the RCAF became an Incorporated Society.
A second strategic plan (2007-2009) built on these developments, and a Strategic Review was completed in 2009. The Rules adopted on incorporation were extensively reviewed in 2012 and new Rules were adopted by the members in 2013.
Structure
The RCAF is government by an Executive and includes individual members from the 66 territorial local authorities, the Department of Conservation, Local Government New Zealand and NZ Transport Agency (NZTA). All member organisations pay an annual subscription to fund activities.
The RCAF organises and facilitates three one-day meetings annually. These consist of short presentations, working group reports and activity updates from member organisations.
More than one representative from a member organisation can attend a meeting, but only one representative has voting rights at any special or annual general meeting of the society.