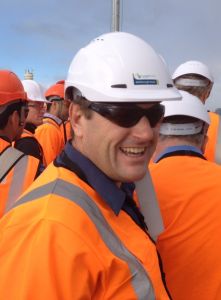 Wayne Oldfield
Senior Manager, System Management, NZTA
Wayne has a Bachelor of Science Hons degree in Civil Engineering and is a Chartered Member of Engineers New Zealand. His career started in England in 1986 working on large Civil engineering projects across the country.
In the mid 2000's he fell into the world of local authority and commenced a role with a Council, working in their Highways Infrastructure team, working in a team of Engineers and Asset Managers.
By 2009 Wayne and his family moved to New Zealand initially employed by Downer then Opus and in 2012 was given an opportunity to work for New Zealand Transport Agency working in the Marlborough Roads office.
Wayne is now the Senior Manager, System Management, within the System Design and Delivery team based in Wellington. His national team consists of around 120 staff, his System Management team works closely with partners to ensure the safe, efficient and effective maintenance and management of NZ's transport system. His team is responsible for ongoing maintenance, delivery of the low cost/low risk works, and emergency works on the state highway network. His team also provides advice to their local councils and DOC who are responsible for maintenance of transport infrastructure. The team is focused on sharing asset management expertise, building relationships to drive improved management, innovation and benefits for the wider sector and communities.