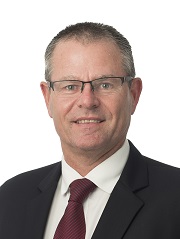 Tony McHarg
Chief Executive, AIG NZ
Tony is the Head of Multinational & Network Management, Asia Pacific & India and was appointed CEO for AIG NZ in July 2019 (acting CEO from May 2019).
In addition to leading the New Zealand team, Tony has responsibility for leading all aspects of AIG's Multinational, Fronting Captive Management business & Network Management across Asia Pacific.
He is AIG Multinational's senior executive within the region. AIG Multinational operates throughout the AIG network as a unified business focused on harnessing the deep underwriting and service expertise of AIG globally to deliver seamless cross border Multinational, Fronting and/or Captive Management solutions and service. Tony also serves as Supervisor on AIG China's Board of Directors.
In previous roles with AIG, Tony has held various Australian, Australasian and APAC Regional management positions, through which he has successfully championed the development of a stronger customer service and sales culture within his areas of responsibility.
Prior to joining AIG in 2003, Tony accrued almost 20 years of sales, service and management experience in a range of senior roles across business development, client relationship and general management as a broker working both in Australia and internationally with JLT, Sedgwick and Marsh.
Before entering the insurance industry, Tony was a qualified Commercial Pilot.