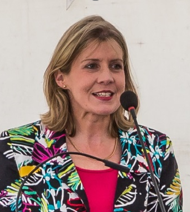 Lisa Rossiter
Senior Manager Environment and Sustainability, Waka Kotahi
Lisa is a lawyer turned strategist with a passion for improving social and environmental outcomes. She leads multi-disciplinary teams who develop and embed strategic direction on critical issues.
Lisa began her involvement with the transport sector as Environmental Director for Transit New Zealand and has held various roles since, including Chief Advisor Safety Directions and National Strategy Manager, during which time she was instrumental in introducing the safe system approach to New Zealand. Passionate about vehicle safety and the role it plays in saving lives, Lisa is a Director of ANCAP Ltd.
In her present role, Lisa and her team are responsible for leading a step change in the way the Waka Kotahi NZ Transport Agency cares for the environment, including shaping the response to the climate change. An advocate of multi-outcome initiatives, Lisa is currently ensuring Waka Kotahi steps up to the challenges in the Emissions Reduction Plan and the Carbon Neutral Government Programme.
In her non-working moments Lisa is a proud mum to two busy youngsters and enjoys contributing to her local community through voluntary governance roles, including Chairing the Trinity Schools Trust Board.