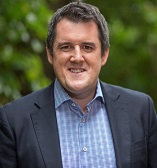 Chris Bishop
MP for Hutt South and National
Chris Bishop is the MP for Hutt South and National's spokesperson for Transport and Regional Development. Before winning Hutt South at the 2017 election, he was a National List MP. He is the Deputy Chair of Parliament's Transport and Infrastructure Committee.
Chris was born and raised in Lower Hutt, attending Eastern Hutt School, Hutt Intermediate and Hutt International Boys' School. He has a first class Honours degree in Law and a Bachelor of Arts from Victoria University of Wellington, and has been admitted to the Bar as a barrister and solicitor.
Before serving as an MP, he worked in behind-the-scenes roles at Parliament, as a researcher for the National Party in opposition, and an Advisor to Ministers in the John Key-led Government. He also worked as a Corporate Affairs Manager for Philip Morris New Zealand.
Chris was a champion university debater, winning tournaments around the world including at the Cambridge Union, the University of Sydney, as well as in New Zealand. He was the 2006 Young Wellingtonian of the Year, recognising his contribution to debating in Wellington and New Zealand. He remains involved in judging and administration today.
A member's bill in his name, the Compensation for Live Organ Donors' Act 2016, passed Parliament unanimously in 2016. The Act significantly increases the financial assistance provided by the government to those who altruistically donate organs to others.
In the 2014 Parliament Chris served on the Finance and Expenditure, the Justice and Electoral, and Regulations Review Committees. He was Chair of the Finance Committee from February to August 2017. From November 2017 to May 2019 he was National's Spokesperson for Police and for Youth.
He lives in Petone with his wife Jenna, and their friendly samoyed Ladyhawke. He is the co-captain of the spectacularly unsuccessful Parliamentary cricket team, and co-chair of the New Zealand-Australia Parliamentary Friendship Group.